Referral Program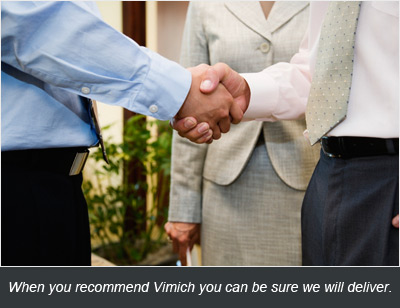 We at Vimich believe it is very important to build on our success with those who helped us become successful. Thanks to our many clients, your trust and confidence in Vimich is greatly appreciated. Our relationship with you is the most important aspect of everything we do.
In an effort to show our thanks in a tangible way we have created our referral program.
Here is our reasoning for creating this program. Over the last 27 years our business has continued to grow because our valued clients continue to recommend us to their customers, suppliers and friends.
Starting effective January 1, 2012, our appreciation and gratitude will also be attached to a financial referral bonus. When you recommend one of your trusted relationships to Vimich and they become a client we will be responding to your trust in Vimich with a $500 referral bonus.
Here is how the program works.
You make a personal introduction
We connect with your referral
We keep you posted as the new relationship evolves
When your referral signs with Vimich, we pay the bonus.
An extra special bonus is awaiting any person who refers more than 5 trusted relationships who become clients. They will receive an additional $5,000 bonus.
We at Vimich thank you for your trust and confidence. We feel good about saying thank you in a more tangible way.