Operations Dispatch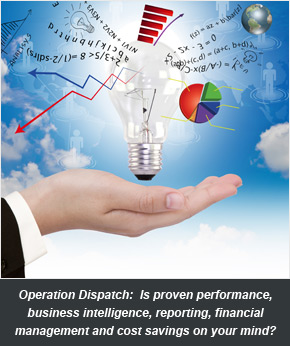 Vimich Traffic Logistics takes a hands-on approach to freight management
; please regard Vimich as your company's personal traffic department working to ensure successful shipment of freight regardless of time lines. One call does it all.
24 hours a day, 7 days a week, your freight will be managed to accomplish your needs.

As your company's outsourced logistic specialists, any transportation mode available to ensure your goods are shipped safely and cost-effectively will be utilized. From tracking every freight shipment to keeping a log of all communications, all of your company logistical operations and dispatch services can be viewed online in real-time.
Your company will be assigned a
personal "Logistics Account Manager"
that exclusively supervises your freight activity. The professional logistics account manager is especially accustomed to how each individual company's freight is transported. Special details are kept in our database regarding all special requirements and/or peculiarities of each origin or destination location. Our focused approach guarantees accountability and ensures cost-effectiveness and efficient freight management.
All freight documentation is conducted electronically
. Consistent and thorough freight analysis will be done on a monthly basis to seek efficiencies in the flow of materials and cost. As these efficiencies become evident they will be submitted for approval and implementation.
Executing traffic logistic changes will be carried out immediately because we are working for you, are not bound to any specific carrier or supplier and manage all administrative duties in house.