Carrier Management
Vimich Traffic Logistics is an independent logistics company that organizes Movement of goods through carrier management.
We are not a carrier and therefore do not own any equipment.
For over twenty-seven years outsourcing third party logistics has been our business. Over these years we have developed a wealth of carriers that continues to provide big benefits for our clients. Our highly qualified freight carriers are insured, bonded, and selected specifically for their past on-time delivery performances. Working with these trusted partners is the basis of our confidence and the reason for earning the respect and trust of our current clients.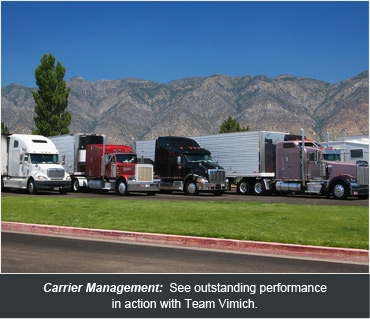 These outstanding relationships together with our repeatable and reliable processes that are built into the technology are the basis for our ISO-9001-2008 certification. Our Oracle database is the same system used by large multi-national firms like Yahoo and AT&T. But that is not the real power; the real power is the processes, redundancy, fail safes, business intelligence and reporting capability that the system provide our clients. When you see the power of Oracle customized and optimized for carrier management you simply won't believe it. Oracle optimized is always one of the deciding factors for our clients signing on with us.
Did you know Vimich was one of the first three outsourced logistics companies and a pioneer of the industry? We may have the longest freight management track record in North America, earning our clients business one load at a time for over 27 years.
Beyond supplier quality, technology optimization, and our unprecedented history, our logistics team is literally a team of logistics experts. Our expert logistics staff continuously tracks carrier compliance, stays up to date with carrier changes, and manages all claims made by customers and carriers to ensure we are working with the absolute best available carrier companies. Our team boasts over 137 years of experience.