Company Story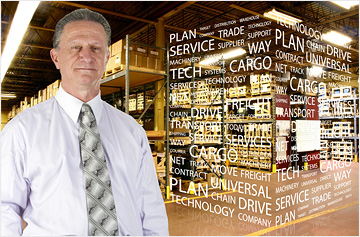 Why was the business started?
As with so many successful entrepreneurs it's their life experiences that prepare them for their realized success. Starting at $2/wk my first job was washing cars at the automotive dealership where my dad worked. I was only 10 years old and already knew that hard work and diligence were the keys to success.
Understanding how businesses work and function was my passion so I went down the path to become a Certified Management Accountant. When I was done school there were few jobs in accounting so I landed a job in the automotive field in my home province of New Brunswick. During this time I learned about the distribution and wholesaling of componentry.
In the early 1970 wanting to gain some experience in Accounting I landed an Accounting position with a large machine tool builder and was soon the Accounting Manager responsible for the accounting department and the import of all components required to manufacture the transfer lines that the company was building. With so much cross border component movement the logical step was to become a Customs Brokers so I obtained my License. Being an accountant who was now handling component movement brought a new perspective and approach to what was going on. This perspective allowed me to capitalize on Drawback and Remission programs resulting in over $500,000 in recovered duties. This may sound like very little today, but then $500,000 was the annual wages for 40 people. It was clear at this stage in my career that I enjoyed applying critical thinking skills that could be utilized in business management.

In 1977 a multi-national tier 1 automotive company provided me the opportunity to become their Customs and Traffic Manager. They said they hired me because I brought to this position a licensed broker status, strong management and analytical skills and a strong background in inventory control and component movement.
During my tenure I managed 6 people, all inbound and outbound freight, over 3,000,000 a month of heavy and off road equipment components as well as all the materials handling supplies. Beyond managing transportation I implemented an in-house palletization program that included manufacturing and a return program. This program resulted in massive savings that cut the material spend by 80%.
The efficiencies generated from creating and managing 24 tractor trailers running 24 hours a day and the palletizations program produced such cost reductions that profits soared to the point that head office thought someone was either cooking the books or there were accounting inefficiencies.
These successes lead to an international assignment with the tasking of turning the division around. Immediately I went to work and within eight months turned the operation from losing money to monthly profits. Inventory was reduced from 23,000,000 to 2,500,000 and personnel requirements were reset to required levels.
By 1984 the decision was made to go on my own. Immediately going into transportation and palletization, I have never looked back, my life experiences, reputation and the relationships built along the way allowed me to experience immediate success that is still enjoyed by Vimich today. Twenty Seven years later and my goals are the same, helping manufacturers increase efficiencies and reduce spending.
What early success did you have?
The power of word of mouth will never be surpassed by any other media. The early success that were obtained by Vimich all came from reputation and relationships. Many multi-national firms, 6 to begin with, brought me in to take over their freight and logistic departments. These companies hired me because they knew of my earlier successes. These companies experienced the same efficiency gains, and cost reductions that immediately lead to the expansion and growth of Vimich.
What direction is the company going?
We are going back to our roots with a reemphasis on relationships. Starting effective January 2012 we are launching two specific programs.
Referral Program

- We are going beyond thank you and appreciation statements to our clients and will be saying thank you in a more tangible way.

Strategic Partner Program

- We are going back to our roots where it all began, by taking the role of a Solution Provider, and Trusted Partner. Everyone who joins the Vimich family will have access to the power of Vimich technology and people. This includes custom reporting, optimized business intelligence, continuous freight optimization program and much more.
Who helped you get where you are?
Those 6 companies who took a chance and bet on a one man shop to help them optimize their logistics department. I am very appreciative and thankful. It was their trust in me that has allowed me to build this company.
What is the company passionate about?
Vimich has always been passionate about getting the job done for our clients. Our clients trust us to schedule and move their freight. We are passionate about being a customer focused business.
What should a customer know about Vimich?
I think it is very important to understand we work for the manufacturer; I come from manufacturing and understand the manufacturing mind set and issues. We represent you. When we make things better for our clients we get paid. We do not represent the carrier or any other party just you. It is in our best interest to have your best interest at the center of all Vimich activity.