Chairman's Message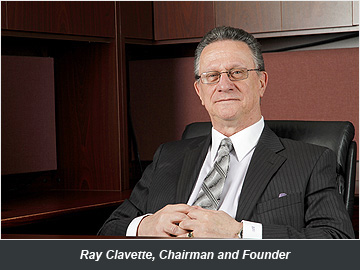 Welcome and thank you for taking a few minutes of your valuable time to find out more about Vimich Traffic Logistic Inc.
My name is Ray Clavette and I am the founder and now Chairman.
If you will allow me a few moments I would like to share with you some of our proud history and our long standing success.
First off, let me answer the question that everyone asks. Where did the name
Vimich
come from??? I even had one customer ask me at one time if it meant
Vi
ctory over
Mich
igan, because the Montreal Canadians were playing the Detroit Red Wings that weekend.
Well, that wasn't it.

I wanted something unique and readily identifiable and it seemed that every related word in the dictionary had already been used to death so I made one up. It is an acronym of the first two letters of each one of my children's names,
VI
ckie,
MI
chael and
CH
antalle.
Vimich was one of the first three founding companies that started the modern day logistics industry in the early 80's. The start of deregulation of the transportation industry in 1980 created an opportunity that, with my background and entrepreneurial desires, just seemed like this was the right issue at the right time and made sense for me to capitalize on.
At the time of deregulation I was the Director of Materials for the Truck and Trailer Axle Division of one of the world's leading Tier One Automotive manufacturers. My background was in manufacturing and specifically automotive, an industry that I grew up in and stayed with.
One of the major reasons why Vimich grew so rapidly was my ability to identify with the issues and needs of my manufacturing clients. Today our company still takes the same approach, we are manufacturers at heart, and we work on behalf and for our manufacturing clientele.
We also take a very different approach to our offer of Logistics services by being very selective to insure there is a sound fit for both of our companies to work together.
We do this by doing an in depth
free
study
before we even get involved
.
We do not commit to pie in the sky soft goals that tend to lead to disappointment but rather commit to hard fact performance metrics that insure no disappointments.
From this study we can commit specific results to our clients and set a sound level of expectations before we even start and we know that those expectations can and will be met and consequently have never had a customer leave because of start-up expectations not being met.
Just the other day I was asked by a long standing client, what has been the biggest change over the last 25 years?
The answer beyond a doubt is technology, Vimich has come a long way from our start, which coincidently was also the start of the PC industry as we know it today, back then we were using Lotus spreadsheets with real floppy disks to track the activity when the competition was using day timers and log books.
And today we are utilizing one of the most powerful databases in the world, an Oracle database is what is behind our proprietary software which took over 15 man years of time to develop. Our current system capabilities are 250 work stations, handling up to 407,000 transactions per minute and is completely scalable.
Here we are since 1984 and several million shipments later and Vimich is still leading the way with technology, and ISO 9001 processes.
We've come a long way from the one man operation to an industry leader, but we have not lost our edge.
Our edge is our approach, Vimich has always been about people, when our customers call they speak to a live person, although, for less urgent shipments, they have the ability to go online and enter their information or email if they wish...
But, from what I remember when I was sitting in that manufacturing hot seat, when product had to move,
with dire consequences if it did not
, I wanted to talk to a live person that understood the ramifications and would assure me that this will happen on time... and not just leave a message on a computer and hope...
Our systems are not designed to give a client access and make them do all the work of loading and chasing information and shipments to make sure it happens.
Our systems
are
designed to relieve the client of those responsibilities and support our staff with all the details of complete and immediate historical sourcing information, to make sure that a client's request is fulfilled within their expectations and at the lowest cost available at that time.
For us, this is what our clients expect so that they may concentrate their time on their core competencies which is the manufacturing of their product and not chasing it, it is their path of least resistance and it is what we deliver.
For us we have been building relationships since 1984. We are still welcoming companies into the Vimich family.
Speaking of family, Vimich is still a, financially sound, privately held company and is family run. My son Michael is now the VP and C.O.O. and my daughter Vicky is our Director of Logistic Services.
Let me say I am very proud of Michael and Vicky and the entire Vimich Team for their accomplishments, they never cease to amaze me.
I want to thank you again for taking the time to listen to my message, a message of family, of history, of pride of service and a message of commitment and I would like to invite you to visit our site and experience the service, or, if you have a service issue or any logistic difficulty that we can help you with, just
give us a call
and perhaps you will feel and see something that makes you want to join the Vimich family and experience Logistic service as it was meant to be.